The Schooner Abigail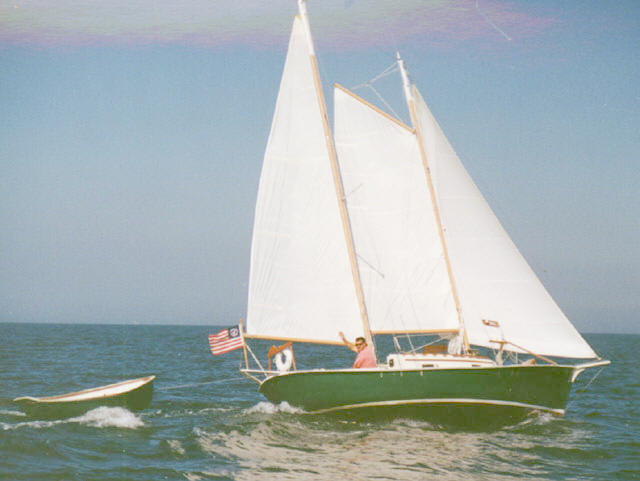 ---
[ Sign Schooner Abigail's GuestBook ] - [ Read Schooner Abigail's GuestBook ]
---
"Margaret D" class hull.
Designed by Aborn "Denny" Smith, Jr.
Built by Trump Yachts of Stonington, CT.
She was built as a Ketch in 1976 and converted to a Schooner at some point.
PHRF 282

Fiberglass monohull
Full length keel, 34" draft
Beam 8'
Length On Deck (LOD) 24' 7"
Length Over All (LOA) 30' (includes Bowsprit + Boomkin)
Length Water Line (LWL) 20' 10"
Displacement - 5500 pounds
Ballast - 2200 pounds poured concrete and lead

Present Sail Inventory:
Roller-Reefed 120% Genoa Jib
Self-Tending, Club-Footed Staysail
Gaff Rigged Foresail
Marconi Rigged Mainsail + Storm
I'd like to add a Fisherman Tops'l and (maybe?) a Gollywobbler.

Auxiliary power is a 7.5 HP Honda 4-stroke outboard mounted in a well.
---
More Pictures - Click To Enlarge





---
Links:









---
Please feel free to E-MAIL ME with any questions or comments.
Ron@SchoonerAbigail.com